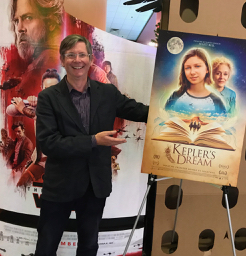 Two films - each dealing with light, matter, the stars, space travel and existential questions with wry insight. One comes with light sabers, the other with horses and fish and peacocks.

Today, SEDGE opens up the movies, including the new Kepler's Dream.

STANLEY DONEN directed Charade, Singin' in the Rain, and many other favoritie moives. Sedge talks to him about the art and challenges of directing.

CHARLES BURNETT makes films of pertinence to the African-American communities in LA, including Killer of Sheep. They are beautiful studies in moving making. He won a MacArthur for his film work.

MALCOLM McDOWELL has acted in some 130 films, from If.... and O Lucky Man to A Clockwork Orange and Star Trek. His work with Lindsay Anderson and Stanley Kubrick and Robert Altman shaped him.

And Sedge talks briefly about Kepler's Dream, the family movie he produced working with a cast and crew of some 130 women, men and children, based on the Y A novel of the same name by Juliet Bell. Kepler's Dream opens in 11 cities this weekend, from December 1, including LA to New York, Chicago, Houston, Dallas, Detroit, Seattle and nation-wide on InDemand and Fandango. Sedge says it's like producing a live public radio show, but different.