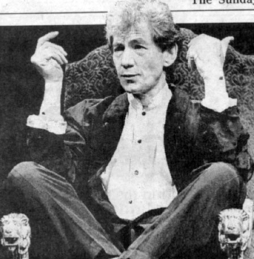 Today, SEDGE THOMSON, interprets INTERPRETATIONS.
SEDGE talks with TINA NUNNALY and STEVEN MURRAY, renowned translators of Scandinavian literature. It's their words we read when hooked by STIEG LARSSON's The Girl with the Dragon Tattoo trilogy which sold a squillion copies and was made into at least two film versions. And why did Steve choose Reg Keeland as his pseudonym? And what is the connection with Oakland Tech?
And one of the great interpreters of SHAKESPEARE -- IAN McKELLEN who performs a scene for the political interpretations that follow.
Together with Sedge they divine truth from song and story as we link the past and present to guide us to the future.
Insights abound.