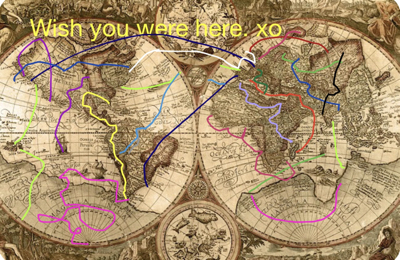 SEDGE sits under a palm tree with

GEOFF DYER - Who is not afraid to travel in circles, both in fact, and in his own mind, to find merriment, truth, and unexpected insights from his peregrinations? It's a good chance this master of procrastination will illuminate some unexpected pleasures of travel in screamingly funny ways, as Geoff likes to say.

PAUL THEROUX - Who would take the train from London to Asia and back, or live in Africa, or wander in cities avoiding the well-known and who loathes vacations? Paul as travel writer and novelist contributes to ways of sensing the textures of our world, and passes on ways to survive being asked for your shoes at gunpoint.

MARY ROACH - Who would go try out a NASA-designed test loo so the rest of us could know how to pack for a trip to Mars and what will protect the astronauts from radiation? This is her account of what she found on her travels.

RINKER BUCK - Who would think of taking a prairie schooner pulled by three mules along the Oregon Trail. Rinker did, and he did it, too. This is his account of following in the ruts of migration's path.

MIKE GREENSILL at the moveable piano looks for a pub with a warm beer.