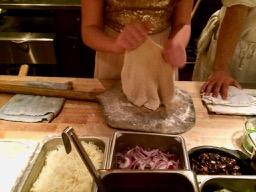 SEDGE THOMSON marks the holiday weekend with the audio picnic you can take anywhere:

MARIEL HEMINGWAY - The actor and food maven talks her all-popcorn fad diet and her more balanced life now, enhanced with her grandfather Ernest's demi-tasse spoon collection
NILOUFER ICHAPORIA KING - Immigration from Persia to India to San Francisco -- A hundred-years old cuisine that transcends boundaries and politics, and why she won't go for a Parsi pizza.
CARBECUE - Alfred Cary likes to cook on the manifold of his car. A feature once offered by Rolls-Royce - the engine hot plate
CHARLES PHAN - Proprietor of the renowned The Slanted Door and other Vietnamese restaurants. Among his secrets, how to choose the best fish sauce
MARION CUNNINGHAM - She channeled Fannie Farmer, and longs for the days when she changed differentials in a service station. In memoriam!
JULIA CHILD - She changed the way Americans eat -- though we still most of us don't prepare eel as she did in France
BOB CANNARD & ALICE WATERS - The accomplished and hilarious grower of fruit and veg reveal his technique for looking through compost. And Alice talks stone fruit season and ways to prepare. The founder of Chez Panisse samples a crisp Sedge makes from her Fruit cookbook.
With music from THE WAIFS and MIKE GREENSILL

Sedge refers to an article in the New York Times.