"God, I miss the Cold War!" - Judi Dench as "M"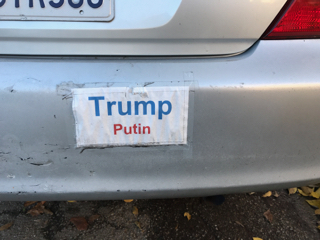 DIY Bumper Sticker in the Wild
This week SEDGE THOMSON brings us reflections on some issues of the day: A man who lost the popular vote by more than 3 million votes is due to take office, with plans to destroy health insurance for tens of millions of Americans, reinstating pre-existing condition clauses and denying health coverage to many more. His proven labile scofflaw behavior of ignoring conflict of interest laws, nepotism laws, refusal to reveal his finances, and tax returns, to perhaps hide his indebtedness to Russian billionaires or business dealings with China, may distract us from the systematic dismantling of laws and organizations established for the well-being of our civil society. His invocation of GODWIN'S LAW to attack the national security agencies dealing with external threats creates havoc, which may be intentional, who knows what is true at this point, with his buffoonery.

So we focues on what is known, and through reflection about the past, illuminate the present:

SETH ROSENFELD - Author - of Subversives on how the FBI fed information to Ronald Reagan to help him become Governor and President, as the result of the Berkeley birthed Free Speech Movement. We hear how the FBI supplied covert and personal information to Ronald Reagan shifting votes in elections, an echo of current events. After years of court cases and Freedom of Information Acts, some of this history is now known.;

STEVE SILBERMAN - author of NeuroTribes: The Legacy of Autism and The Future of Neurodiversity, which won a major scientific book award, for his account of Autism, our human need for different kinds of people, and the struggle to overcome prejudice fake news about vaccines. This week Donald Trump and Robert Kennedy Jr met to discuss their ill-informed and dangerous anti-vaccine measures which, if their wacky ideas are acted on, will imperil Americans' health;

MARK BOWDEN - author of Worm: The First Digital World War - How the US government was unprepapred for hacking and internet attacks in 2009. And as we've seen is recent months, the vulnerabiliity remains real, credible and dangerous. We learn about Bay Area-based SRI and their attempts from the deck of the Internet Clipper Ship to braves the gales of malware;
And to calm us from the news of the day, DAROL ANGER and THE FURIES along with the Canadian refuge of ENSEMBLE CAPRICE;

MIKE GREENSILL proffers a thought.