I showed my nine year-old son Julia's kitchen this summer -- in the Smithsonian, now -- and said, "see that table... I sat there early one evening at her house in Cambridge. She poured a lovely German wine and asked if I wanted something to eat."
"What'd she fix you?"
"Well, she went over to a bin that opened from the cabinet in the pantry - inside I could see it was lined with a plastic sack. She pulled out a big handful of those little goldfish crackers."
"We supped on fish and a fine white wine at Julia's that night."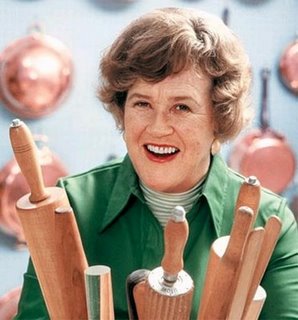 Prior to interviewing her one night in San Francisco, we had dinner - as I recall six of us gathered round - and she led us in a toast she called "Le Carillon de l'Amitie." As the glasses chimed together, in her voice, she announced the "Bells of Friendship." Julia ate the French fries and found the trendy hamburger too flavorless: "not enough fat."
Later, on stage, I asked her about reports of having been on a diet.
"I've never been on a diet. I just didn't eat as much as I wanted to."
Or why she chose canned tuna rather than fresh for her Salade nicoise.
"Because I like the taste of canned tuna."
All in that inimitable yet often imitated voice that conveyed to so many of us the laughter and fullness of life that comes from cooking and eating well with friends.